Welcome to Café New York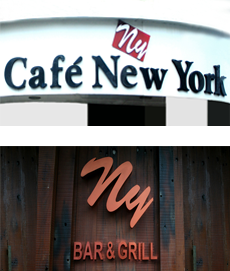 Café New York situated in the very heart of Mumbai was established in 1913 as an Irani Restaurant, at those times our specialties were Kheema Samosa, Mawa Cake, Khari Biscuit with Irani chai & Kheemapav being our all-time favorite, it was a restaurant that was more than a place that served a great food.
We strongly believe in 'A True Passion to Serve' But a mission statement is worthless if it's not supported by action, which gradually made us introduce a Beer Bar and Later with Permit Room as we moved with the Time and Demands. As today we continue to prosper the overall decor of Café New York has evolved over the years. Once a Roadhouse look, now a much softer, cleaner, more contemporary with a graze of a multi cuisine Restaurant at Lower Level.
Our latest locations NY BAR & GRILL on Upper Level feature generous wood booths, the walls offer rich wood finishes, natural stone and exposed brick topped with our signature nostalgic signage and conversational photo frames. A host of large High Definition Flat screen TV's, jumbo Projector, rich earth tone colors and a Live DJ with great music round out the theme. Our image is a reflection of today's consumer needs and the change in current styles. Call it a Pub, Fine dine, or a Sports Bar, It's a Fusion with all the Management & Mission being the same 'to serve'.
We invite you to soak in the vibrant spirit of Mumbai with the best in local cuisine and dishes from around the world, time to be pampered with our hospitality & service. CHEERS!